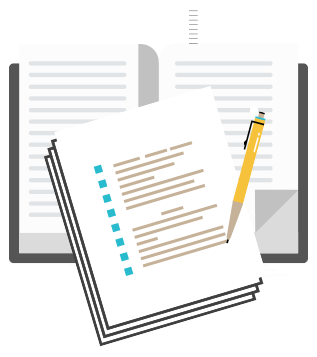 IELTS WRITING FEEDBACK SERVICE
Let our IELTS teachers assess and give you feedback on your IELTS writing section, checking over the quality of your writing remotely.
IELTS WRITING FEEDBACK SERVICE
For international students to apply successfully to overseas universities, they often need to achieve a certain score on the IELTS examination. The writing section of the test is administered in a 2-part format: Part 1 involves writing a short essay, normally based on graphs or data; while Part 2 is a longer essay, focusing on a broader social issue about which the candidate should provide a balanced argument.
In recent years, an increasing number of applicants to universities in the UK, the US, and Australia have studied IELTS with us. However, some people are at the stage where they simply need help with their writing and do not have time to take lessons.
Fortunately, our IELTS teachers offer this Writing Feedback Service, which involves checking over the quality of your writing remotely.
The Process
(a) You complete practice questions in your own time, and then email your responses to our team.
(b) One of our IELTS teachers proofreads your work, checks its vocabulary and grammar, and improves its academic style.
(c) The IELTS teacher who improved your work provides targeted, personally-tailored feedback and advice about how you could have scored a higher mark.
Prices: We charge 30.00 GBP per practice session, which includes one Part 1 question and one Part 2 question. Please note that this price is the same whether or not you submit a Part 1 question. However, if you submit a bundle (i.e., 5 practice questions), then we charge 20 GBP per practice section, which amounts to 100 GBP in total.
Full Procedure:
1) Please send an email to service@proofessor.co.uk which contains the following:
a. request for the IELTS Writing Feedback Service.
b. Your written responses for Part 1 and Part 2 of the IELTS written test.
c. The latest date and time you can accept the completed work. If possible, please allow for a reasonable length of time to provide feedback, as although we have many proofreaders, we have relatively few IELTS teachers who can provide this service.
d. A statement about your preferred payment method. You can pay for services at Proofessor using bank transfer, PayPal, or debit and credit cards.
2) If we can meet your deadline, we will email you with our payment details and confirm your order.
3) When the service is finished, we will return the IELTS teacher's feedback to you.
4) You're welcome to order this service as a one-off or to submit as many questions as you'd like. Although we offer a discount for 5 practice questions, it's perfectly ok to use our IELTS teachers to practice any number of questions. Many people simply send us their responses to the topics they've struggled the most with.
Call us: 020-8144-8842 (Overseas: +44 20-8144-8842)
Wechat: (Rick): rick446732
Skype: (Tony): proofessor_tony | (Rick): rick_proofessor
Unsure if we are suitable?
Send us a small amount of words from your own work. A first time customer is welcome to send 200 words for a free sample for either proofreading, heavy editing proofreading or paraphrasing. This is not a discount and it should be sent in advance of your full work so that you can test the quality and check if the service can benefit you.
 
Who is checking my document?
All our proofreaders must have the following before we consider their application: Native English speaker, Graduated in UK / Ireland universities, Excellent command of English. We have strict testing criteria before allowing them to join in order to ensure that all our team is composed of the strongest proofreaders.
What is your turnaround?
Normally we need 24 hours for any document 1 – 3000 words for proofreading or heavy editing or 2500 words for paraphrasing. However, although 24 hours is the normal minimum deadline this can change in busy times according to the availability of editors. In peak months such as April, August and September we normally needed a longer turnaround time. Additionally on other days per year we may need a longer deadline from you if it is very busy. It is also advisable to leave as much time as possible. If you have a short deadline please still feel free to ask whether we can do it. We sometimes have editors who are available for short notice documents. It is best to send the document when asking to save time.
I have a very long dissertation and my deadline is too short.
You do not have to send us your whole essay all at once. Once you have finished each section, you can send us that section for proofreading. We can be proofreading this section – e.g. your introduction – while you are writing another section e.g. your method.
Have more questions?
For a full list of Frequently Asked Questions please visit our FAQ Page.