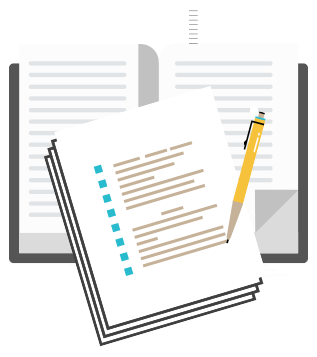 ESSAY FEEDBACK SERVICE
Essay feedback as a standalone service is 29.99 GBP per 1000 words. Essay feedback combined with proofreading or heavy editing is 24.99 GBP per 1000 words plus the proofreading or heavy editing price.
Improve your essay, strengthen your arguments and structure, and take your critical writing to the next level.
ESSAY FEEDBACK SERVICE
Why Use the Essay Feedback Service?
If you have a first or second draft and are ready to write your final version, you can use this service to get a second opinion. The personalised feedback you receive will highlight ways to improve your essay, to strengthen your arguments and structure, and to take your critical writing to the next level.


How Does the Essay Feedback Service Work?
This service provides you with personalised feedback on your essay.
You will receive (a) a written report that summarises your essay's main strengths and weaknesses, links these to the mark scheme, and specifies a SMART goal for improvement; and (b) detailed comments that are entered directly into your MS Word file.

The feedback you receive will include some or all of the following:

a) Highlighting whether certain points, ideas, or paragraphs require a reference
b) Commenting on whether the number of references included in your essay is sufficient
c) Letting you know if your essay's structure is appropriate
d) Identifying missed opportunities for critical writing
e) Highlighting where arguments are weak or ineffective
f) Providing general suggestions about what could be improved
g) Identifying where you could possibly add content (e.g., developing an idea)
h) Identifying where you could possibly remove content (e.g., areas of repetition)
i) Providing an approximate grade (NOTE: this is only possible with a mark scheme)

NOTE: As per the disclaimer, the feedback you receive is based on each editor's opinion.
Essay Feedback With Proofreading or Heavy Editing
Combine the Essay Feedback Service with proofreading or heavy editing to correct grammatical mistakes and other errors in your essay, or to improve your written English, writing style, and consistency. Alternatively, you can use this service as a standalone service.
The process:
When you choose this service, please let us know about:
a) The major you are studying
b) Your essay topic
c) Your essay title
d) Your assignment's mark scheme (if you have it)
Knowing your major and essay topic will enable us to assign an editor to your work who has studied in your subject area.
Disclaimer for the Essay Feedback Service
For the Essay Feedback Service, we will allocate an editor who is familiar with the topic and your field to provide you with personalised feedback. However, in the UK, academics often have different views about how well an essay has met the marking criteria, and they also have different stylistic preferences regarding the use of language. Therefore, the information you receive about your essay may not necessarily reflect, and may not be consistent with, the official opinion of your tutors, markers, or your university, and we cannot guarantee that your tutor or other tutors will agree with the editor's opinions.
By using this service, you understand, agree, and acknowledge that the information provided is based on the expert opinion of the editor who reviews your work, and that we cannot offer a refund or compensate you for any direct, indirect, incidental, consequential, or exemplary damages that occur if your marker, or anyone else, has a different opinion, or which may arise from the use of this information in any other way. You understand and agree that the information provided as part of this service is given on an as-is basis, and that Proofessor makes no representations as to the accuracy, suitability, or completeness of the data and information provided to you by the editor for this service.
Also, please note that, in this service, the editor will highlight everything they feel is wrong or could be improved about your essay, but they will not be able to make improvements themselves to the content, arguments, structure, ideas, referencing, or any other aspect of your document. If you would like the editor to make certain kinds of corrections (grammar, improving the flow of English and improving the level of vocabulary) while providing feedback on your essay, consider combining the service with proofreading or heavy editing.
Finally, in order to use this service, we do need to receive your acknowledgement by email that you understand, agree to, and acknowledge the contents of this disclaimer. In sum, the feedback you receive is the opinion of your editor only; it does not necessarily reflect the opinion of your university, marker, or tutors; and we cannot be held responsible if the opinions of and advice from your editor differ from your university, marker, or tutors.
Call us: 020-8144-8842 (Overseas: +44 20-8144-8842)
Wechat: (Rick): rick446732
Skype: (Tony): proofessor_tony | (Rick): rick_proofessor
Unsure if we are suitable?
Send us a small amount of words from your own work. A first time customer is welcome to send 200 words for a free sample for either proofreading, heavy editing proofreading or paraphrasing. This is not a discount and it should be sent in advance of your full work so that you can test the quality and check if the service can benefit you.
 
Who is checking my document?
All our proofreaders must have the following before we consider their application: Native English speaker, Graduated in UK / Ireland universities, Excellent command of English. We have strict testing criteria before allowing them to join in order to ensure that all our team is composed of the strongest proofreaders.
What is your turnaround?
Normally we need 24 hours for any document 1 – 3000 words for proofreading or heavy editing or 2500 words for paraphrasing. However, although 24 hours is the normal minimum deadline this can change in busy times according to the availability of editors. In peak months such as April, August and September we normally needed a longer turnaround time. Additionally on other days per year we may need a longer deadline from you if it is very busy. It is also advisable to leave as much time as possible. If you have a short deadline please still feel free to ask whether we can do it. We sometimes have editors who are available for short notice documents. It is best to send the document when asking to save time.
I have a very long dissertation and my deadline is too short.
You do not have to send us your whole essay all at once. Once you have finished each section, you can send us that section for proofreading. We can be proofreading this section – e.g. your introduction – while you are writing another section e.g. your method.
Have more questions?
For a full list of Frequently Asked Questions please visit our FAQ Page.